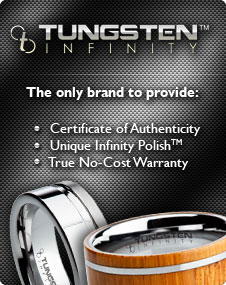 USPS First Class shipping and laser engraving with your order!
---
---
Tungsten Infinity Rings Only Available Here!
Men's Tungsten Online is the only place where you can find the Tungsten Inifinity Rings. These rings are the only ones you will find that have a Certificate of Authenticity, Infinity Polish, and True No-Cost Warrenty! If you want to learn more about our Tungsten Inifnity Rings please check here
Who said wedding rings always have to be made of gold? Who said men can only propose with diamonds? Who made all these "predetermined connections" between certain types of jewelry and specific life events?
Read More
Hey, it's 2018. Don't you think that believing everything the media tells you is still the "cool" way to do things? We're already entering an age of individuality – an era where originality and unique ideas is widely encouraged and accepted. Nowadays, no one would scorn you for proposing with a non-diamond ring nor would anyone hate you for proposing with no ring at all!
Thing is, proposing with rings has been a long-standing tradition. And it's definitely a tradition that deserves to be kept. It's sweet, meaningful, and it holds good symbolism. A ring signifies union and never-ending passions. Just like how a ring's circle never ends, it hopes for a love that never stops as well. And, we think that's beautiful. But a message that beautiful doesn't always need to be written with gold or diamonds just to come through the other person. Sometimes, adding a special touch can mean more than doing what everybody else does. Yes, something special – Tungsten special.
Tungsten, sometimes referred to as "Wolfram," is an element that comes from the mineral Wolframite, and later on Scheelite. If you can remember your chemistry classes back in 7th or 8th grade, you must've come across the element "W" in chemistry class and wondered what element it stands for. Surely, you were as surprised as I was to find out that it stood for Tungsten. I mean, why in the world did chemists decide to represent Tungsten with a W, when there is hardly any trace of the letter in the chemical's name! Well, now you know. It's for Wolframite; it's earlier, German name.
Tungsten, read as TUNG-sten, literally translates to "heavy stone." And it really is one. Tungsten is often alloyed with steel to form tough metals that remains highly stable even in high temperatures. The specific type of Tungsten we are using to produce high quality rings is no other than Tungsten Carbide (WC) which is by far, an extremely hard Tungsten compound. Tungsten carbide is the best material to use for creating durable, damage-resistant rings that can last you a lifetime.
Best part: Mens Tungsten Online's Tungsten rings are 100% cobalt free. And they're 100% purchasable through our online shop.
With over 25 years of experience working in the jewelry industry, our team consists of only highly-skilled and highly-capable individuals that are more than ready to assist you in having the best, and most memorable Tungsten shopping experience of your life. We've been in the jewelry business for so long that we're already well-acquainted with different types of jewelry pieces. If it's diamonds you want, we've been there. If you're looking for gold and silver jewelry sets, we've also marketed them before. If you're curious about steel and titanium, we can also tell you all about them.
But I'm telling you, we have never fell in-love with any other type of jewelry as much as we have for our Tungsten collections now. Tungsten carbide is an amazing mineral to be made into jewelry. It's too bad that only a few people have come to appreciate it though – but not anymore. We've made it our life's mission to bring the Tungsten era to a start. The world deserves to know that there is more to fashion than what has commonly glittered. There is a certain charm Tungsten jewelries possess that will certainly draw the attention of curious minds. And we know that you are one of them.
Before you go off venturing for the perfect Tungsten ring or accessory, however, make sure you know what real Tungsten is! Otherwise, the worst sellers may get the best of you and you'll end up thinking whatever you read today is entirely insignificant. So let me tell you something very important. When you see something like this:
"Tungsten Carbide rings low, low, low prices! Get the lowest deals here! Everything is below $200! Best offer ever!"
This is not true. Pure hoax, I tell you. Tungsten as a material isn't all that cheap. Actually, it can cost more than that. Include crafting, polishing, and design into the equation and you definitely need to have something more than that. Tungsten, as a mineral, is fragile and brittle. Tungsten, when impure, cannot promise you the same durability and longevity compared to pure Tungsten Carbide jewelry. But achieving it is a rather difficult and tedious process. Thus, it can't afford to be cheap.
The Tungsten jewelry we produce has been alloyed with carbon over extremely high temperatures – over 6,000 degrees Fahrenheit, to be exact! This whole process creates the Tungsten Carbide (WC) that is one of the hardest metals you can find on the face of the earth. Pure WC also gives Tungsten jewelry their stain or fade-resistant quality. When Carbon is alloyed with Tungsten, it creates an end product that is not susceptible to oxidation – even when it comes into direct and prolonged contact to the oils our skin naturally produce. On the other hand, alternative binders such as nickel and cobalt cannot produce the same quality as carbon when alloyed with Tungsten. Some minerals just don't complement each other perfectly and it results in poor quality binds. Tungsten, when alloyed with the wrong mineral, cannot transcend its naturally fragile and brittle characteristics and therefore, jewelry produced from such erroneous combinations result in easily-scratched, easily-discolored pieces.
Tungsten Carbide (WC) is denser than steel, silver, or titanium; it's also four times harder than platinum and ten times harder than 14K gold! There is generally no harder metal in existence that can be made into jewelry other than Tungsten Carbide. And rest assured, the Tungsten InfinityTM collection sold by Mens Tungsten Online, comes second to none in terms of quality and purity. We always make sure that you only get the BEST and STRONGEST TUNGSTEN CARBIDE jewelry pieces with every purchase!
"But why Tungsten Carbide rings of all things? Surely, my wife would love it if we stick to the tradition of exchanging gold rings. Plus, we are 100% sure of the quality as well."
If that is what you prefer, then by all means, follow what you think is best for you and your partner. If you want to tie the knot with a gold, silver, or diamond ring – you are more than free to do so! But before you do, we still encourage you to take a glimpse of our collection. You can't judge what you haven't seen now, can you? I mean, if you've seen Tungsten rings, I'd place a good bet your opinion of it will do an entire 360.
So, quick question: HAVE YOU ACTUALLY SEEN TUNGSTEN RINGS?
If you haven't, then I suggest you go to our products page right at this instant! You're certainly missing out on a big chunk of heaven-sent creations the jewelry industry has to offer. Tungsten rings are sleek, stylish, and fashionable. It can work as your wedding rings and at the same time; become a kick-ass fashion statement. Tungsten Carbide rings are also playful when it comes to colors and designs. And the Tungsten InfinityTM collection we have at Mens Tungsten Online offers as much variety.
And one more thing, if you're so bent on remaining traditional, how does a Tungsten Carbide Diamond ring sound? Combining both is definitely possible and there are many design options to choose from! And it's not just diamonds; you can fill, line, and accent Tungsten rings with any other precious metal you want. So for those of you who want to remain traditional but at the same time, crave for something unique, Tungsten rings by Mens Tungsten Online just might be the thing for you!
If matters of durability, quality, and sizing concerns you, we have a couple of tricks up our sleeves that can help ease your worries without doubt. At Mens Tungsten Online, we offer:
1. 45-day Customer Satisfaction Money Back Guarantee
2. Lifetime Ring Replacement
3. Lifetime Ring Size Warranty
So you are given 45 days' time, to find out whether Tungsten rings are to your liking or not. You can test it out for comfortability, aesthetic, and quality for more than a month without any obligation to keep the product for good! If the slightest chance of MTO getting your ring size wrong happens, we also offer a Lifetime Warranty for ring sizes. You can simply send back the ring to us, and we'll happily replace it with the right one – free of charge! Lastly, we are so confident with our product that we are willing to give you a Lifetime Ring Replacement Warranty. Should the Tungsten ring fail to meet the quality it has promised, we'll replace it in a jiffy – no questions asked!
So, what are you waiting for? If this isn't the best deal you've ever encountered in your life, then I don't know what is!
Head on to our Products Page and catch great discounted Tungsten rings – today!
Testimonials
"I was looking for a new ring to replace my old gold wedding ring. Mens Tungsten Online was the right place. I love the way my new tungsten carbide wedding ring looks and the way it feels on my finger. I felt comfortable buying online because of your great warranty."
"Thanks for much for all your help. You really went above and beyond to help me in such a short time. Your customer service is amazing. I will definitely shop with you again."